Skolkovo resident created a vertical farms of the future
In present times, we pay more and more attention to the level of our life and the quality of food. It leads to stricter requirements to the nearest supermarkets. And even the city of our location makes no matter, whether it's a hard-to-reach region or crowded metropolis. We want fresh food, hot bread, and, of course, fruits and vegetables which provide us with much-needed vitamins.
The delivery of fresh vegetables is a complicated issue as it's a short life product, which requires special storage temperature, and has a big waste percentage at all stages. All these factors affect the price and, at the same time, cause new attempts to optimize this process. New hybrids are being developed that demand less strict storage and transportation conditions, and have improved packaging. There are also projects aimed to shortage the distance between the vegetable growing place and the market. The company Urban Agrotechnologies, which is a resident of the Skolkovo Foundation, has developed vertical hydroponic systems under the Healthy Garden brand.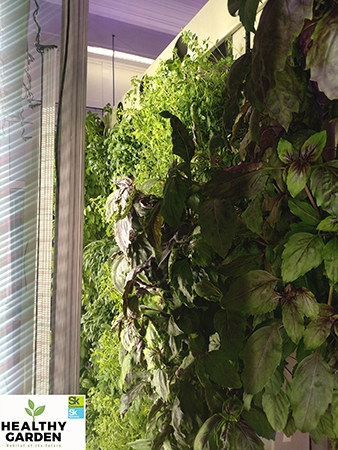 The company has developed and delivers modern vertical multi-tiered hydroponic farms. The Healthy Garden solution is fully automated. Human participation in the cultivation process is minimized and does not require special agricultural knowledge or skills. The system independently controls temperature, humidity, light, and nutrients and creates optimal conditions for plants growing. Another unit automatically regulates the supply of minerals to reveal the maximum natural potential of the plant.
Healthy Garden hydroponics technology includes an automatic light adjustment system, a microclimate system, an automatic feeding unit that controls nutrients and acid-base balance, and also maintains the selected formula throughout the growth cycle, a simulated wind that provides oxygen flow and evaporates excess moisture from plant leaves, and remote control via a mobile application. The cost of one set of equipment starts from 3 million rubles (approximately $39.5 thousand) and includes 10 vertical pyramids (walls) placed on an area of ​​100 square meters. However, this price does not include additional options, such as polycarbonate fences or climatic equipment, as well as installation work.
The vertical farm grows various crops, including (in brackets is the calculation of crop yield per wall, consisting of 8 towers) basil (20-24 kg per month), cilantro (12-6 kg), oregano (8 -10 kg), dill (12-16 kg), mint (12-16 kg), parsley (12-14 kg), green onions (12-16 kg), thyme (2-4 kg), lettuce (16 -20 kg), romaine lettuce (20-22 kg), iceberg lettuce (16-23 kg), chard (16-20 kg), Chinese cabbage (24-28 kg) and arugula (8-10 kg). In total, the system provides more than 100 proven hydroponic methods for plant growth.